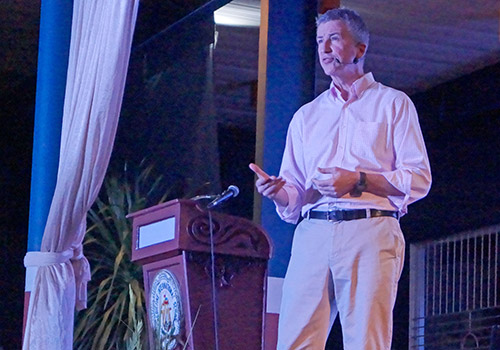 Natural Born Winners (NBW) Symposium
Robin Sieger, an acknowledged world class keynote speaker and author, delivered a talk at the Natural Born Winners (NBW) Symposium in front hundreds of people who are mostly education stakeholders last January 23, 2015.
Robin Sieger is the founder of Sieger International Ltd. with offices in London (UK), and Charlotte NC (USA). The company has built an international reputation amongst businesses as powerful catalysts for performance transformation. His corporate training, consulting and speaking clients include: British Airways, British Telecom, General Motors, Ford Motor Co, HSBC, IBM, Microsoft, McDonalds, and Zurich Financial.
With his charm and humor, Robin Sieger inspired and motivated the audience to start designing their success, face their fears, and live their dreams. Displaying authenticity of his message, he relayed his own story of his experience with cancer at the age of 29, with no career or prospects. Within three years of seeking the real principles at the heart of success and happiness, he had turned every aspect of his life around. He even showed a video of him facing his own fears by doing sky-diving.
He said that at first, he did have trouble convincing others it had nothing to do with luck. He stresses, "Success is not by luck but by design."
As a result, Sieger International now runs the 100% NBW Program for Schools enabling children to develop their self-worth and inspire them to learn and apply the principles behind personal success. NBW™ is a practical, flexible, easy to apply personal development program, which introduces students to a clear formula for achieving success whilst supporting the development of a confident, winning mental attitude.
Robin Sieger is now in Manila for a week, after his talk at Kuala Lumpur for the Toastmasters Malaysia, to give a series of lectures about his Natural Born Winners program. He wishes to share this program to schools for free to aid more people in designing their own success.
Department of Education officials from the Quezon City Division were present in the event together with several School Administrators from as far as the Province of Isabela to listen to what Robin Sieger has to say about how helping individuals, particularly students, become successful in life.
The Symposium also featured a talk by Belinda Villavicencio, President of the Society for Organizational Learning (SOL) Philippines. She presented Systems Thinking, commonly associated with Peter Senge, and how it aims to help individuals become critical life-long learners, who are able to see the bigger picture as well as the short-term, long-term, and unintended consequences of certain decisions and actions. Ms. Villavicencio also highlighted the need to have more learning organizations where there are structures that support growth in order to raise more leaders in the Philippine society.
The Natural Born Winners (NBW) Symposium was held at Benedictine International School to celebrate its 15 years of helping children succeed in all avenues of life. BIS has been implementing the NBW program for the past 2 years and is now highly engaged in helping spread Systems Thinking in the Philippines. For more details about the programs or the school, you may send your email to [email protected].
© Copyright 2009 - 2023 Benedictine International School, Quezon City. All rights reserved.